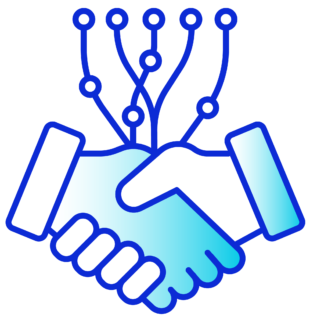 Commercial services and support for EOSC has a twofold aim: to enable access to commercial cloud services for the researchers as well as to involve industry and SMEs in the EOSC landscape which improves the exploitation of scientific research products.
Relying on procurement frameworks, the EOSC Future project delivers commercial cloud services for storage, compute and other services to researchers under favourable terms and conditions and in a technically compliant way. The project provides adoption funding to demonstrate the relevance of EOSC Marketplace in the distribution chain and to further stimulate take-up of these services. Through the involvement of EOSC users, the project is continuously improving this process and exploring the possibility of including a wider range of services such as, in the longer term, research community services.
Through the EOSC Digital Innovation Hub (DIH), EOSC Future is enabling innovation with industry by leveraging EOSC services and data. Bringing together industry and the scientific community, the EOSC DIH community acts both as a supplier and a user of EOSC to further stimulate cross-fertilisation across sectors, promoting innovation and digitisation of SMEs.
Target groups
researchers
service providers
data catalogue managers
resource providers
resource users
SMEs
State of play
Current stage:
1st Adoption funding call is exploring how pre-procured commercial cloud services can be consumed through the EOSC marketplace which in its turn will stimulate the uptake of the services
In addition to the available frameworks, a survey is also being done to identify gaps between procured services (in the current framework) and potential demand for other services that could be included in future procurements
providing coordination and operational support for the EOSC DIH (i.e. SMEs are being onboarded to the EOSC DIH and pilots are regularly being developed, forming strategic partnerships and improving operational processes).
Next steps:
establish a use case to demonstrate compatibility between EOSC and other European data spaces
address future sustainability of the EOSC DIH.
Key benefits/impact for EOSC
Ultimately, commercial services and support for EOSC will:
improve the quality of research
reduce the burden for research organisations and other service users to engage in complex procurement processes
aggregate demand at hyperscale to counter supplier weight
support cross-analysis of data from heterogeneous sources
create market opportunities for innovative research data services
support SMEs and industry to maximise the impact of science research outputs to benefit the wider European society
In turn, this will promote and support commercial exploitation of data, software, workflows and services, with tailored support to SMEs.
Relevant links