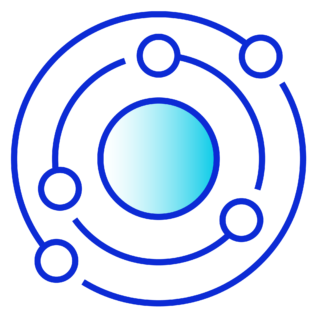 EOSC Core and Support provides a set of internal services and support activities, which allow EOSC to operate and provide the ability to seamlessly share, access and combine a multitude of research services and resources. It increases the re-use of research outputs, supports Open Science principles, maximises the value of research investment, facilitates multidisciplinarity and widens the user base of research.
EOSC Core and Support provides a common channel for researchers, removes fragmentation and enables cross-disciplinary collaboration across disparate research communities, allowing researchers to use resources from different communities to produce ground-breaking new research results.
EOSC Core and Support constitutes:
a core technical platform with components such as AAI, Accounting, Monitoring, Helpdesk, Configuration Management System, Marketplace, Resource Catalogue
a set of non-technical functions such as Rules of Participation, Onboarding, Order Management, Security Coordination, Open Science Support.
From a user perspective, EOSC Core and Support capabilities will foster access resources and services in a homogeneous and streamlined manner, enabling users to compose and implement complex workflows.
Target groups
research infrastructures
science clusters
e-Infrastructure providers
service providers
State of play
EOSC Future has taken various standalone components, such as Monitoring, Accounting, the Helpdesk, and integrated them into a functional platform. The project has also defined the EOSC Core and Support capabilities as well as the criteria for including resources via the EOSC Exchange.
Looking ahead, the project will continue to integrate and deploy new services as well as develop the functionalities of services already in production.
Key benefits/impact for EOSC
Users can log in to a huge range of research resources with the same credentials (via EOSC AAI Federation)
Users can discover and find resources across communities (via the EOSC Marketplace)
Coherent support channels (e.g., helpdesk, training, consulting) will help providers connect resources to EOSC and to connect users with experts
Users can access statistical information on the availability, usage and open science metrics of resources and activities in EOSC
By the end of the project:
11 EOSC Core software products available in the EOSC repository
11 EOSC Core services connected with the EOSC Core AAI proxy
40 providers integrated with the new EOSC security framework
Relevant links