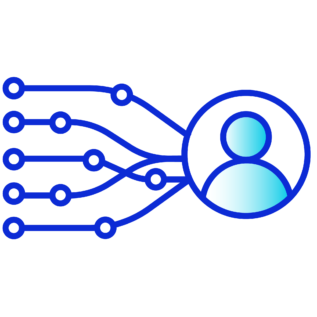 The EOSC Exchange is a catalogue and marketplace, through which an expansive range of research expertise and resources can be discovered, ordered and shared. These resources cover storing, preserving and exploiting FAIR data, encouraging its re-use and maximising the value of research investment.
The Exchange consists of resources and services onboarded by science clusters, e-Infrastructures and other research communities, research projects, research infrastructures and SMEs to meet the needs of not only research communities but also the general public and private sector. A prerequisite of the onboarding process is compliance with the EOSC Rules of Participation, in accordance with inclusion criteria developed by EOSC Future.
Stated simply, the EOSC Exchange unlocks the potential of data, opening up opportunities for:
science communities to expose and share services, tools, software, etc., they have developed and refined over many years, for the benefit of other communities and larger-scale collaboration as well as potential wider exploitation
e-Infrastructures to provide more generic, 'horizontal' services, which are widely required in all domains.
Target groups
researchers, research communities
SMEs, industry
service providers
State of play
The EOSC Future project is currently focused on:
onboarding resources from research cluster projects, other research infrastructures and research communities, e-Infrastructures and the private sector
the first procurement of 'horizontal' resources (compute, storage, network) through the INFRAEOSC-07 projects.
Looking ahead, this KER will extend to:
analysing and clarifying the most workable way to expose (and make more 'findable') the resources contained in the catalogues on the EOSC Portal
identifying the best mechanisms for users to request access to IT resources, and how to account for this use (e.g. by implementing appropriate support mechanisms for the use of resources, identifying the long-term funding model for these resources)
addressing the usability of the software and services exposed through the EOSC Portal: how they can be adapted to new user needs, how they can be supported between service providers and users.
Key benefits/impact for EOSC
EOSC Exchange functions will provide a rich catalogue of resources that meet the needs of research and researchers:
Resources from e-Infrastructures and cluster communities, as horizontal resources, addressing multiple domains (such as data processing, storage and archiving, data management, data transfer and visualisation)
Resources made available by the INFRAEOSC-07 projects through the EOSC Portal, delivering capacity in a range of horizontal areas
Thematic resources made available through the ESFRI Science Cluster projects and other communities
By the end of the project:
more than 500 services onboarded
more than 500 non-service resources (data sets, publications, training content etc) onboarded
Ultimately, researchers will be able to discover, store, transfer, process, analyse, visualise, anonymise, etc., data on the basis of resources made available through EOSC.
Relevant links