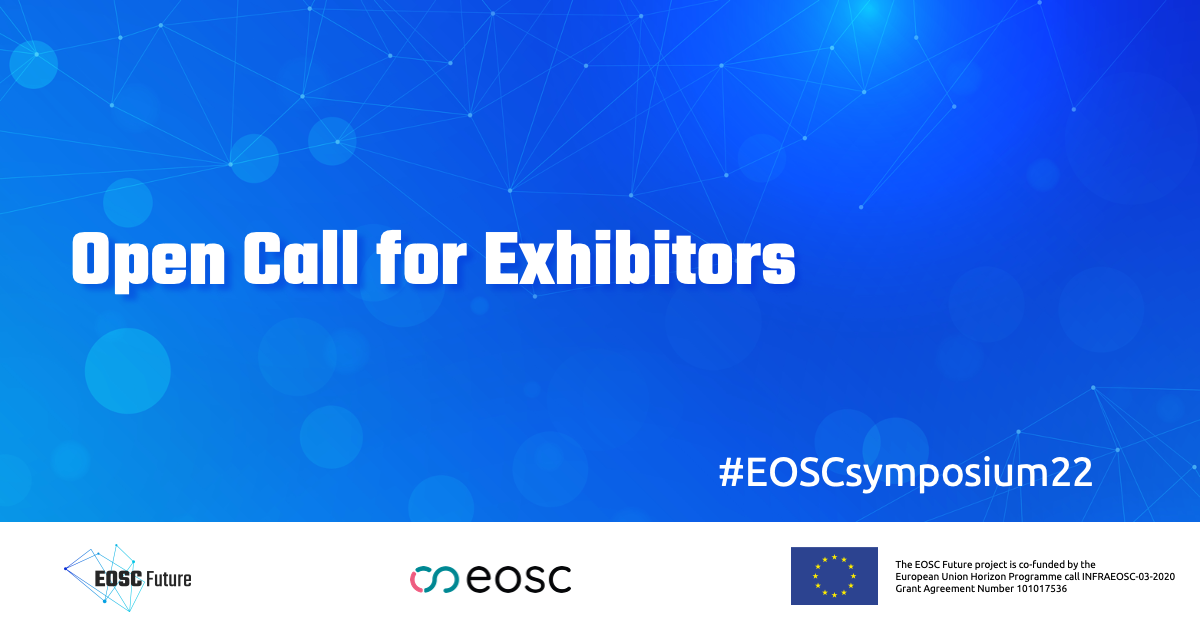 EOSC Symposium: Open call for exhibitors
October 3, 2022
This year, the city of Prague, Czech Republic, will play host to the EOSC Symposium, the main EOSC annual event, from 14-17 November 2022.
From across Europe and beyond, over 500 stakeholders from ministries, policy makers, research performing organisations, service providers, research infrastructures and research communities will gather to reflect on the EOSC key achievements and strategic challenges. Together, they shall strive to identify priorities and concrete actions at European, national and institutional level to accelerate EOSC implementation.
To further support this annual meeting of the EOSC minds, an exhibition space will showcase community milestones, achievements and innovations.
Do you have something to share with the EOSC community? Apply for our open call for #EOSCsymposium22 exhibitors and host an exhibition booth or present a poster on your work.


Exhibition choice – Exhibition booth or poster
Posters and booths will be on display in the venue's large exhibition hall for the duration of the EOSC Symposium, with dedicated times for presentations and networking to be included in the programme.
For exhibition booths, successful applications will have 2×3 m, which will comprise of:
1 table
2 chairs
1 standard electrical outlet
For posters, submissions must respect the following conditions:
A0 portrait format
printing/shipping covered by the presenters
In order to limit our carbon footprint, exhibitors will be encouraged to rely upon QR codes and links for flyers and brochures, as opposed to printed copies. Exhibitors will be responsible for purchasing additional or special equipment (e.g. screens, extra electrical outlets, furniture). In these cases, EOSC Future will provide you with all of the relevant information.

Who can apply
projects actively engaged in building EOSC (H2020, Horizon Europe & other projects)
national, regional and international initiatives aimed at boosting Open Science and FAIR principles
thematic communities
any individual interested and contributing to EOSC.
The applications will be evaluated by the EOSC Symposium Programme Committee.
Deadline
The call is open for applications until Friday 21 October 2022, 17.00 CEST – due to limited space, allotments shall be distributed on a first come, first serve basis.
Note: As the symposium is an in-person event (COVID permitting), exhibitors will need to be on site to set up booths and posters. Detailed information such as shipping and other logistical deadlines will be shared with exhibitors closer to the event.
For more information on the event registration and programme, please visit the EOSC Symposium website.
Previous News item
Next news item