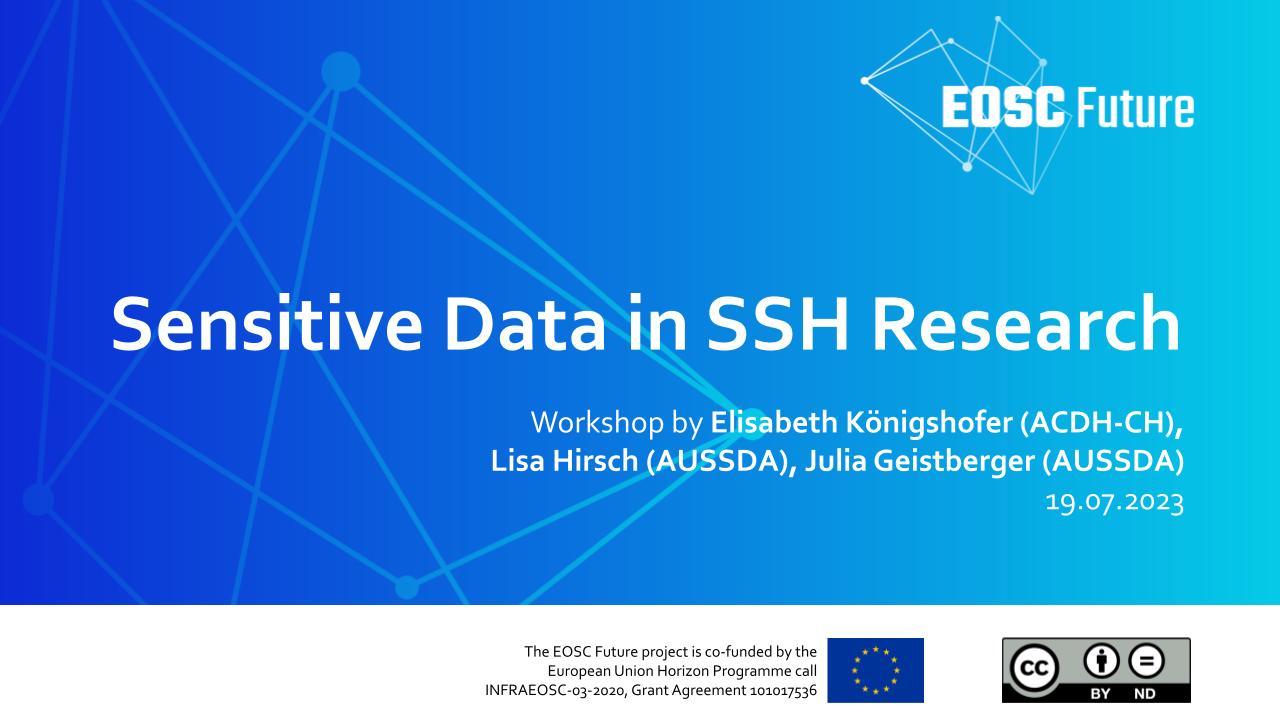 EOSC Retrospective: Workshop in Vienna on Responsible Research and Data Usage in Social Science
October 19, 2023
The safe and responsible use of data has always been a core concern of modern scientific research, and EOSC offers a number of tools to enable and support researchers in all disciplines in this endeavour, which over the course of the project were demonstrated in a number of events to the relevant audiences.

One such example took place on 19 July and 30 August, when EOSC Future partners AUSSDA – The Austrian Social Science Data Archive, in tandem with the Austrian Academy of Sciences' ACDH-CH hosted an in-person workshop in Vienna, Austria. The event, "Sensitive Data for Social Sciences and Humanities", was targeted at students and doctoral candidates from the Social Sciences, Humanities and Arts (SSH) and aimed to strengthen their competence in dealing with sensitive personal data in research, especially in the context of Open Research.
During the three-hour workshop, the EOSC Future trainers first introduced basic knowledge on handling sensitive research data, which the participants could then apply and deepen in practical group work.
The workshop covered topics such as the GDPR, data protection, identification risks and consent; personal and sensitive data in the context of Open Science and FAIR principles, as well as basics on data archiving, licensing and access management.
Master students and early career researchers from various disciplines of SSH, including agricultural sciences, forestry, (socio-)economics, musicology, linguistics, communication studies, political science, literary studies, digital humanities and education, participated in the workshop. They were able to practice identifying and anonymising sensitive data as well as developing anonymisation plans.

The event was an excellent opportunity to share the benefits of EOSC with researchers and teach open research practices. It also became clear that its contents resonated strongly with audience interests, as evidenced by overwhelmingly positive feedback from the participants underlining the importance of and need for this kind of in-depth training.

As a further answer to this demand, a self-paced course on sensitive data in EOSC by EOSC Future trainers is currently in preparation, so be sure to check back soon for more information!
Previous News item
Next news item